Aramex recrute Plusieurs Profils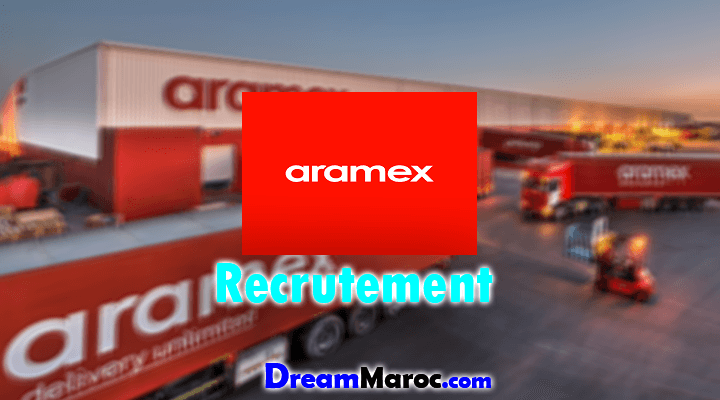 Aramex a démarré son activité en 1982 en tant qu'opérateur express s'établissant rapidement comme une marque globale connue pour son service de qualité et son offre diversifiée et unique. Aujourd'hui Aramex et son alliance mondiale forment un réseau étendu de transport qui enjambe les quatre coins du globe avec plus de 350 bureaux dans 60 pays et 200 villes principales, et plus de 12800 employés de 82 nationalités. Aramex est un fournisseur de transport express international et domestique, de fret, d'opérations de transit, de logistique et d'autres services de transport partout à travers le monde.
Aramex International Morocco s'est implanté au Maroc en 2001, et possède aujourd'hui 5 Agences à Casablanca, Rabat, Fes, Marrakech et Tanger, une agence MEAD à aéroport Med V, ainsi qu'une plateforme logistique d'une superficie de 8285 m2, avec un effectif de plus de plus 200 employés en 2017.
Aramex recrute Plusieurs Profils
Area Sales Executive (Rabat, Casablanca)

Mission:
Seeking new opportunities, maintaining and developing existing customer to Increase sales profitability for all Aramex products
Key Responsibilities:
Identify business opportunities from existing and new customers,

Develop and maintain strong relationship with customers,

Enhance customer loyalty by delivering customized tailored solutions,

Conduct field prospections for customers and insure the follow up,

Liaise with inter departments to ensure customer has received the best class in service,

Adhering to company policies & procedures while completing day to day challenging activities
Profile:
International business or logistic Master,

Min 3 years experiences as area Sales Executive in International transport or freight forwarding company,

Fluent Arabic, French, English and Berber languages,

Networking and Problem-solving skills,

Negotiation skills, Listening skills

Focus on developing Relationships.
---
Senior Area Sales Executive

Mission:
Ensure freight sales targets are met

Identify freight business opportunities from existing and new customers.

Evaluate the profitability per account to ensure targets are met

Visiting customers in Casablanca and all branches to increase the freight sales revenue,

Manage the pipeline and the prospect value per sales to ensure focusing on the top 10 customers per pipeline

Develop and maintain strong relationship with freight customers and internal stakeholders ,

Analyze stopped clients to identify solution and regain their business

Follow up on top customer unresolved request and ensure resolving pending problems

Ensure best sales practices to meet freight customer needs and expectations and capitalize on growth,
---
Contact Center Executive

PURPOSE:
To handle incoming calls of the new and existing customers.
KEY RESPONSIBILITIES:
-Respond and follow-up customer calls to ensure customer satisfaction.
-Give the best customer centric experience to the custome
-Ensure collaborating to the team to provide the customer with the best customer experience.
-Support the Ops and CMT team in maintaining a high service level and offering the customer a flawless "shipment deliveries" process.
-Examine Customers' feedback with the direction/guidance of the "Customer Service " Management, to further improve the whole company service level.
Profile:
-Bachelor in Marketing or logistics …
-First experience in contact center is recommended
-Professional Communication in english and french
-Customer service oriented
---
HSE Manager

Safety and Security:
Ensure having a secure and safe work environment

Ensure handling all critical incidents that might have impact on company brand and reputation

Set Country HSSE strategy and KPI's for stations HSSE teams

Manage all facilities within an entity (Country)

Contribute to tenders by reporting all data related to country HSSE

Review, support and participate in external Audits and when required

Develop employee HSSE awareness

Approve any HSSE training conducted in country

Determine access requirements to information within the team to guarantee privacy and confidentiality based on sensitivity, classification, legal requirements and company polices

develop and maintain the team response and recovery plans during disruptive incidents, using the tools and templates provided by the local business continuity coordinator

Ensure passing all internal HSE, Zero tolerance, security, ISO 45001, TAPA and CGI Audits

Ensure compliance with ARAMEX and local Safety and Security requirements and legislation

Conduct Safety and Security risk assessments to detect potential hazards and reduce risk

Liaise with government officials pertaining to investigation
Facilities Management:
Contributes to setting a capital and operating expense budget forecasting and quarterly accrual projections.

Manages all facilities RFP's, including Project Plan, Site meetings, SOW, Specifications as per Aramex SOPs

Develop Master PPM schedule and execution plan as per corporate standards

Maintain Aramex Facilities "Work Flow Process"

Manages facilities preventive/corrective/predictive maintenance programs including vendor management and work quality assessment guidelines.

Benchmark and implant FM process, for General maintenance of following systems;




HVAC/ELEC/MECH/FF.
Minimum requirement:
Bachelor's degree or higher with health and safety qualification

Certifications of FMP is an added advantage

7+ years' experience in related field

Experience in Security Administration with strong knowledge of security management
Company Overview:
Since our founding in 1982 we have grown to become a world leader in comprehensive transport and delivery solutions for business and consumers. Headquartered in Dubai, at the heart of the world's most dynamic commercial hub and on the site of historic trade routes linking east and west, commerce and transport are deeply embedded in Aramex's DNA. We are dedicated to transforming the face of trade, expanding our operations rapidly to better connect businesses and consumers worldwide.