Ferrero recrute Plusieurs Profils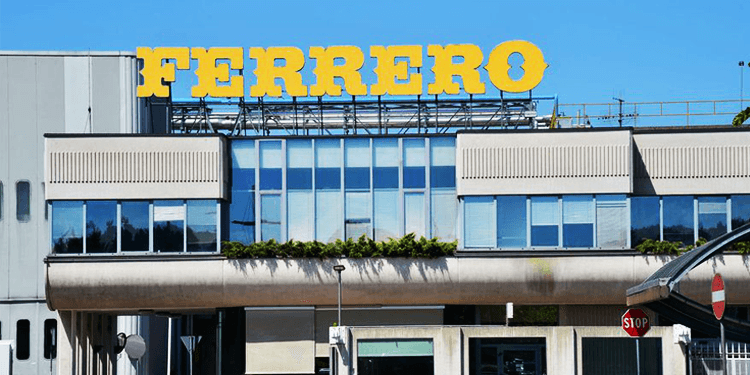 C'est l'histoire d'une réussite qui dure depuis trois générations. Une brillante et audacieuse famille italienne originaire du Piémont se tient fièrement derrière le nom de la marque, sa réussite financière et l'expansion d'une multinationale. Et ce n'est pas tout. Le développement sans égal du Groupe est dû à l'engagement quotidien de chacun de ses salariés.
Depuis sa création en 1946, la société est portée par sa passion de l'excellence et le dévouement de ses employés. Les valeurs clés de loyauté et de professionnalisme régissent l'interaction de notre personnel avec les consommateurs, les communautés, les institutions et les partenaires commerciaux.
Un dévouement qui s'est toujours reflété dans les résultats : au cours de l'exercice 2013-2014, le Groupe Ferrero a engrangé un chiffre d'affaires consolidé de 8,4 milliards d'euros. Le Groupe emploie plus de 34 000 personnes dans 53 pays, et possède 20 usines de production réparties dans le monde entier, dont 3 Entreprises Sociales en Afrique et en Asie, et 9 entreprises agricoles. Ses produits sont présents et commercialisés dans plus de 160 pays. Ils sont ancrés dans la mémoire collective et le mode de vie de nombreux pays où leur popularité transcende les générations, et où ils sont souvent considérés comme des symboles culturels.
Key Account Manager

If you're looking for a role with variety, this is it. As a Key Account Manager your main focus will be to drive sales development across a number of clients within our new Ferrero Business Unit in Morocco. You'll work alongside the head of Accounts to build brilliant relationships with a breadth of clients define sales strategies, targets, programs, commercial initiatives and promotional policies.
CHANNEL MANAGEMENT
-Identifying growth drivers for clients and developing a client plan that combines the Country commercial policy with specific client drives of growth
-Directly interacting with clients and negotiating, preparing and presenting the contracts, and aligning on the implementation of the Country promotional plan
-Communicating all information regarding the customer channel strategy and activities, providing insights for the local development activities and support in problem solving
-Managing clients' credits
-Conducting analysis on the client performance and designing and implementing solutions when needed (new initiatives, additional events, pricing, profit-mix, etc.)
ACTIVITY PLANNING AND MANAGING
-Managing the proper application of promotions and commercial conditions defined during the negotiations
-Observing own and competitor product pricing. Maintaining the key trade relationship in order to have a better knowledge of the marketplace
-Providing sales forecasts for the clients
-Monitoring customers' sales performance
BUDGET MANAGEMENT
-Ensuring alignment between proper budget management and business objectives
-Proposing forecast of commercial and assigned structure costs, and sales volume budge
-Min. Master's Degree in Economics or Marketing
-At least 6 years' experience in similar roles
-Good communication in English and French
-Proven sales experience with a track record of hitting targets and excellent relationship with buyers
-Experience in category, customer, channel marketing and implementation of marketing plan
-Knowledge of commercial and office software (e.g. Excel, PowerPoint)
-Knowledge of the P&L
---
Customer Service Specialist

In our new Business Unit in Casablanca, the Customer Service Specialist will be part of the Supply Chain Team, directly reporting to the Country Supply Chain Manager.
Manages the creation of sales orders and promotional conditions in system

Contributes in process and system improvement for better service level

Acts as a liaison between customers and management in order to enhance the overall customer experience.

Analyzes complaints from customers and provides adequate resolutions.

Tracks proposed resolutions and follows up with customers in a timely fashion.

Prepares documents and reports for future reference.

Trains peers in good customer service.

Develops and maintains vast knowledge of the products and services being offered.

Communicate customer feedback to various teams—including technical and marketing departments—in order to improve the overall customer experience

KPISs and PERFORMANCE
Possesses the ability to communicate effectively in person, over the phone and via text.

Has strong leadership skills and the ability to work with others to resolve customer complaints

Exhibits self-motivation, the ability to multitask and pay close attention to small details.

Can think logically to provide answers to customer questions as well as resolutions for various issues that may arise.

Exhibits the ability to prioritize tasks and complete them in a high-pressure environment.

Displays the ability to work in a collaborative and team oriented environment
4 to 6 years of relevant experience in Customer Services management

Preferred experience in the FMCG industry

Bachelor's degree or equivalent educational degree

Logistic planning techniques and stock management

SAP proficiency SD module mainly

Good communication and analytical skills

English and French fluency is a must have
---
Controlling Specialist

As a Controlling Specialist your main responsibility to provide the right information to the decision makers and assure the governance and guidance, the controller will be interacting with variant departments and the HQ to provide the timely analysis on business and operative performances and forecast the upcoming results, it's a competitive and challenging role in a dynamic environment.
The controller will be reporting to the CFO, and will support the finance, commercial & operative team in their daily activities.
University degree, preferably in Economics, Accounting, Finance;

Previous experience of at least 3 years in controlling, or reporting.

Ability to gain an understanding of business processes and to identify risks/opportunities;

Knowledge of MS Office, Essbase, as well as knowledge of SAP is desirable, the knowledge of HFM is a plus;

Strength in technical skills, data management and reporting software, with the ability to develop tools for an efficient working.

Flexibility, analytical and project management skills, organizational skills and management of priorities and deadlines;

Self-motivated, Goal orientation, problem-solving skills and teamwork;

Experience gained in FMCG company

Fluent in English, and other language is considered a plus.

Master's Degree in Business Administration, Accounting or Finance

At least 3 years' experience in similar roles

Experience gained in FMCG company

Knowledge and strong interests in financial analysis preparation, accounting, planning, taxes, or administration preferred

Fluency in English
---
Inbound Logistic & 3PL Expert
The Inbound Logistics Expert oversees the flow of our product from point of supply. The Incumbent is charged with optimizing the inbound logistics network in order to minimize total system cost and maximize profitability while delivering superior customer service. The position will require a full cross-functional approach, developing plans and metrics that are aligned with business goals and objectives creating value for our customers. You will serve as the in-house expert on all compliance-related issues, working directly with the Country Supply Chain Manager, our customs broker and multiple internal teams. Our compliance efforts are currently handled by multiple teams, so you will also be instrumental in consolidating and streamlining processes to ensure accuracy, visibility and accountability. In addition, your strategic, analytical mindset will help us implement policies and procedures that ensure a greater degree of accuracy and completeness of information from our vendors.
Developing and implementing process and system enhancements to reduce costs and improve operational efficiency, accuracy and customer service levels

Driving analytics to monitor logistics network performance and identify opportunities to minimize costs while maximizing service

Identifying market trends and developing seasonal strategies to ensure adequate space availability and transit times for ocean and air shipments

Conducting quarterly business reviews with core providers to ensure outlined service requirements are being met

Developing and managing the global customs and import/export compliance programs, activities and personnel to ensure compliance with all policies/procedures in accordance with all applicable export and import laws, statutes and regulations

Managing relationships with third parties such as government agencies, trade service providers and customs brokers

Overseeing all inbound goods with regards to compliance with customs laws and other government agencies and programs

Promotes process innovation and new IT systems

Develop templates, tools, meeting agendas to setup and optimize demand planning process including monthly assumptions tracker

Weekly/Monthly scorecard reporting

Circulate promo/copacking tracker within team
6 to 9 years of relevant experience import/export knowledge, including a deep understanding of customs regulations, HTS classifications, import duties, free trade zones and tariff engineering

Advanced Excel and data analysis skills

Self-starter with excellent project management and leadership skills

Ability to collaborate across all areas of the business

A strong sense of urgency and ability to strategize solutions under deadline pressure

Preferred experience in the FMCG industry

English and French fluency is a must have
---
Sales Field Manager
This is an exciting opportunity to join our new Business Unit in Casablanca. We are currently looking for a Field Sales Manager to be accountable for the profitable achievement of sales objectives. The Manager will be responsible for team's sales productivity and directs their effort in order to have the greatest overall impact on company results. She/He will manage all aspects of running an efficient sales team, including supervising, coaching, disciplining, and motivating direct-report sales associates.
Prioritizes coaching and performance management efforts to have the greatest overall impact on business results.

Coordinates the involvement of sales support personnel, including customer support, so that team performance objectives and customers' expectations are met.

Proactively inspects sales team activity, by ensuring that the quality and quantity of sales effort meets company expectations.

Works with the country sales manager to ensure market-level strategic and business objectives are met by the sales team.

Directs and supports the consistent implementation of company initiatives.

Positively impacts the performance of individual sales team members by implementing and managing field support tools, including productivity initiatives, account and territory planning methodologies, and customer communication tools.

Leads field forecasting efforts among the team managed, ensuring that accurate forecasts are completed on a timely basis

Proactively assesses, clarifies, and validates customer requirements and satisfaction by engaging key customer accounts in conjunction (new initiatives, additional events, pricing, profit-mix, etc.) with sales personnel managed.

Builds and maintains strong customer relationships.

Builds peer support and strong internal-company relationships with other key management personnel.

Establishes productive relationship with trade marketing manager & Key Account managers based on frequent communication, collaboration, and the effective implementation of marketing activity grid in the marketplace managed.

Meets assigned team quotas for sales, profits, and strategic objectives.

Accountable for the thorough implementation of all customer related initiatives among sales personnel managed.

Responsible for the efficient allocation of company support resources in the customer base managed by the assigned team.
Min. Master's Degree in Economics or Marketing

3-6 years' experience in similar roles in field management modern trade within FMCG sector

Good communication in English and French, Arabic is a plus

Proven sales experience with a track record of hitting targets and excellent relationship with buyers

Experience in category, customer, channel marketing and implementation of marketing plan

Knowledge of negations and analytical skills

Knowledge of commercial and office software (e.g. Excel, PowerPoint)